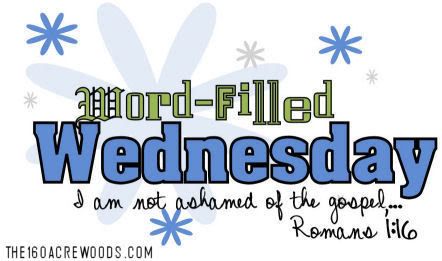 Today is Word Filled Wednesday.
Penny
is the host for today's post. I did a devotion tonight for my Sparkies entitled "Company Is Coming" and how we have to clean house when company is coming for the holidays and also that we should have our hearts right and clean and be ready when Jesus returns. This was the scripture that went along with my devotion:
As it is written in the book of the words of Esaias the prophet, saying, The voice of one crying in the wilderness, Prepare ye the way of the Lord, make his paths straight. Every valley shall be filled, and every mountain and hill shall be brought low; and the crooked shall be made straight, and the rough ways shall be made smooth; and all flesh shall see the salvation of God. Luke 3:4-6.
After my devotion, the kids made Christmas Cards for our shut-ins in the community.
LORI