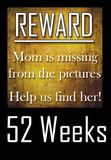 52 Weeks is a year long challenge for YOU to be in a picture once a week for 52 weeks. We are always the ones behind the camera, this is YOUR chance to get out in front and be in the pictures with our family. We are glad you are joining this challenge. More importantly your family will really enjoy having you in the picture. Thanks for playing along! Oh, you can just jump in now with 1 of 52, you're not getting off that easy! Now go take a picture!

Last Monday night was our Secret Pal Reveal party at church. This is my dear friend Shannon. We have been friends for over 15 years. We had a really good time visiting and finding out who our secret pal was although for me it wasn't a surprise because my other dear friend was my secret pal and she always wrote in her own handwriting!!

And here she is, Angela on the right. She was my secret pal all year and she did a wonderful job. Thanks Angela.

Here are some other dear ladies from the WMA. The second one from the left was my secret pal all year. The one I bought for.

Here are some more of the ladies.

I love this picture of Ms. Terry!! She has helped me so much the last few years with AWANA. What a mentor. Thanks Ms. Terry!!

It you would like to participate jump on over to
Carin's
blog.
LORI