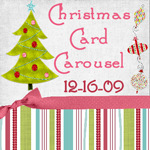 I love this time of year and one reason why is I love going to the mailbox to see if I have any Christmas Cards. I love to get Christmas cards and am especially excited if it is a picture that way I can see how much peoples kids have grown. I was thinking how I would love to post about my families Christmas cards and well, I was blog hopping today and I found this blog and got so excited. Join
Faith
over at Walk with me by faith. There are over 100 bloggers who have linked up if you would like to see lots of other Christmas cards.
I ordered my cards through Wal-Mart.com and was so excited because I didn't even have to go to the store. I ordered them on-line and then my mom picked them up for me. I still have not got them in the mail yet!!! But I will. I have got them addressed and need to purchase some more stamps and plus I need to order some more!!

I hope you and your family have a very Merry Christmas.

LORI