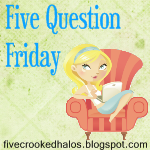 Today is 5 Question Friday and the last 3 Friday's I have participated in two meme's. I also have been doing this on Thursdays also. I don't know if this is against the rules, or are there rules?? Anyways, if you would like to participate just join
Mama M
at My Little Life.
Here are today's questions:

1.
Which boygroup did you like most in your teens?
New Kids On The Block. I once stood in line all night for tickets. It was cold but fun!! One of the local radio stations would come and get us and take us for a potty break and served us pizza. Me and my friend were on the 7th row!!
2. Do you do Christmas cards, letters, photos, nuthin', all of the above?
We do Photo cards and you can click here to see them.
3.
If you could meet one celebrity who would it be and why?
Alan Jackson. Does he count? Anyways, I love his music and he reminds me of my husband.
4. Favorite thing to cook with (i.e. stainless, non-stick, Dutch oven, microwave, debit card...or, perhaps, a cauldron, etc.)?
Non-Stick most definitely!

What is the one thing you wear the most, besides your unmentionables?
My houseshoes. I am a in-home medical transcriptionist, so I LIVE in my houseshoes!! I actually need a new pair for Christmas as I have worn a hole in mine!!
LORI