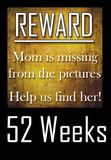 52 Weeks is a year long challenge for YOU to be in a picture once a week for 52 weeks. We are always the ones behind the camera, this is YOUR chance to get out in front and be in the pictures with our family. We are glad you are joining this challenge. More importantly your family will really enjoy having you in the picture. Thanks for playing along! Oh, you can just jump in now with 1 of 52, you're not getting off that easy! Now go take a picture!
Saturday we had breakfast with Santa and the girls were supposed to have their picture made with Santa. Well..........Kenleigh was scared to death. It is amazing what a difference a year can make because last year she didn't have any problem going to him. So I had to get in the picture.
This is my first time to participate in this meme but ran across Carin's blog today and thought this looked like fun.
LORI