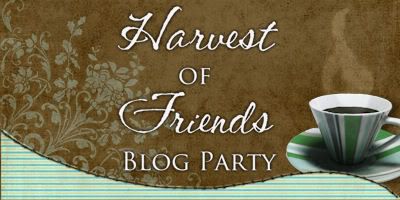 I ran across this Harvest of Friends Blog Party on Brooke's blog over at Keeping Up With Hunter. It is hosted by Lynnette Kraft at Dancing Barefoot on Weathered Ground. The party begins on October 19th and ends on October 24th. Head over to Lynnette's blog and link up to meet new blog friends and get to know them better! I learned how to post links to other peoples blogs today from my dear friend Tisha over at Crazy Working Mom. Thanks Tisha!!

1. What is your favorite thing to snack on while you're blogging?
Fruit smiles and/or coffee.
2. What is one thing you wouldn't want to live without?
Coffee
3. Beach, Mountains or Farm? Where would you live if you had a choice?
Mountains. I think it would be very pretty.
4. What's your least favorite chore/household duty?
Laundry. I never had to do this growing up. I had to do EVERYTHING but this, so I wonder if this is why I don't like it. My mom spoiled me by doing my laundry. She is very anal about her laundry.
5. Who do people say you remind them of?
Peppermint Patty.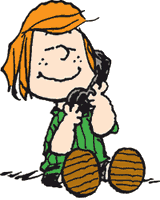 6. Prefer parties and socializing or staying at home with the fam?
Staying at home with my family!!
7. What's your all time favorite movie?
Lonesome Dove
8. Do you sleep in your make up or remove it like a good girl every night?
I remove it NOW. I used to sleep in it but since the birth of my second child 2 1/2 years ago, I have really bad acne, so I have to wash my make-up off and use Proactive because none of the over the counter stuff at Wal-Mart worked.
9. Do you have a hidden talent or a deep desire to learn something that you've never had a chance to learn? What is it?
I wish I knew how to make those really pretty decorative cakes.
10. What's one strange thing you're really good at?
Can't think of anything at the moment.
11. What first attracted you to your spouse?
He was wearing a blue flannel shirt.
12. What is something you love to smell?
Pumpkin Spices
13. Tell something about you that you know irritates people.
My cell phone going off ALL THE TIME. I am popular what can I say?? HA!!
14. When you have extra money (HA!) what's the first thing you think to do with it?
Buy something for my kids.
15. Are you a silent laugher or a loud laugher? What makes you laugh the hardest?
Loud laugher. The ladies that I used to work with would always do things to make me laugh really hard, so hard I would cry.
16. Where is your favorite place to shop?
Target
17. What's one thing you'd do more often if you had more time?
Scrapbook.
18. Are you a big spender or frugal?
Frugal. I don't like to give a lot of money for things.
19. Who is your favorite character of all time (from a movie or book)? (Can't be real)
No-one comes to mind, so I guess nobody has left that big of an impression on me. LOL.
20. Would you want to be famous?
Don't think so, I like my privacy.