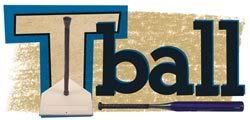 Even though Kenleigh is not quite old enough to play T-ball yet, her granny and papaw thought she was. They bought her a T-ball set this week at WalMart. She is so excited about it. When we go to Kaitlyn's ballgames she always has to take her ball and glove. Well, now she has her own T-ball set. My father-in-law started chemo again this week, but so far, so good. Praise the Lord. He has not felt good in a long time but as you can see below, him and his little red-headed ball player have enjoyed their week.
Kenleigh and Papaw with her new T-ball set.
There is no stopping her now!! Thanks granny and papaw.
LORI